Wedding Thank You Card – Single image
Wedding Thank You Card – Single image
It's good to say thank you, so say it like you mean it with our thank you cards.
Love Wedprint Pro x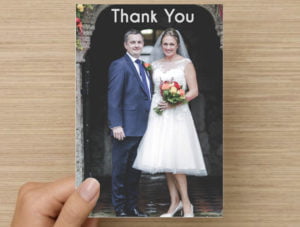 If you want that the best card, then this 4 inches wide and 6 inches' tall card should be the one for you. Hit your family and friends with one big winner of an image!
Customise the card the way that you want it using your images from your photographer. Add text and alter the fonts. You can even alter the layout if you wish.
We want them to look amazing so we only print on Conqueror brilliant white 300 gsm card with a gloss finish. This produces the best quality for your images from your special day. No compromise only the best will do.
Your design on the front with a small logo from us on the back along with the photographer's logo and contact details.
Please feel free to alter them as you wish. If you have any problems or questions, please let us know.
Make the first job as newlyweds be the best job that you could do.
Only logged in customers who have purchased this product may leave a review.